Welcome to Write Away, my blog for writers, readers, and book lovers everywhere. I am one of you, and must confess that I not only love books—I am just short of being a book addict. Yesterday, while walking down the main street of a small coastal town, I saw a shop with the word BOOKS above the door and immediately wanted to go inside. Like Pavlov's dog, the word "books" triggers a conditioned response: must see–must look–must have.  I've learned to control this response, thank goodness. If I hadn't, my home would be entirely overrun by books.
Reflecting on books caused me to think about when this all began — when did I become a book lover? The answer to that question comes readily. I was eleven years old, and the book was a Nancy Drew mystery by Carolyn Keene. The author's real name was Mildred Benson, but to me, Ms. Benson will always be Carolyn Keene. The name stuck, just as the name of her young detective is fastened in memory: Nancy Drew led me along the path to another world—on a day when I truly needed to escape the real world.
I read my mystery from cover to cover on Christmas Day, tucked away in a window seat in a small alcove. I was in Munich, at the home of a friend of my mother's. The book had been a gift from my mother, and she and I had arrived at her friend's house shortly after opening presents at our own home. At least, we had gone through the semblance of opening presents; we were a miserable trio that morning. My stepfather was contrite and doing his best to make everything seem normal. My mother was stony and silent. She probably wanted to leave our house immediately, but she must have decided that it would be unfair not to let me open my presents.
As snow fell outside, I was following clues along with Nancy Drew, and I forgot the trauma that had brought me to that particular alcove on this December day. The forgetting may have only been for those few hours, but they enabled me to get past what I had seen on Christmas Eve, and the shock of my mother's bruised and swollen face on Christmas morning. And though it was the heroine of my book who engrossed me in a story that I puzzled out and finally understood, I know now that my real hero was the author – it was Carolyn Keene who gave me shelter from a harsh reality I couldn't comprehend.
That spring, I began writing stories. I also learned how to type. When I learned that the young woman who came to help my mother on weekdays had been a secretary, I asked her to teach me how to use the typewriter situated on my stepfather's desk. As a budding author, this was a skill I knew I must have.
It is only from the perspective of adulthood that I can look back and make the connection between the book I read one Christmas Day and the decision to become a writer. I had been saved by story, and I wanted to be one of the good guys: a writer.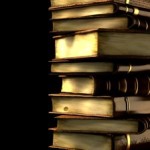 What was your first book? Not necessarily the first book you read, but the one that made an impression, that stays with you still. I'd love to know.